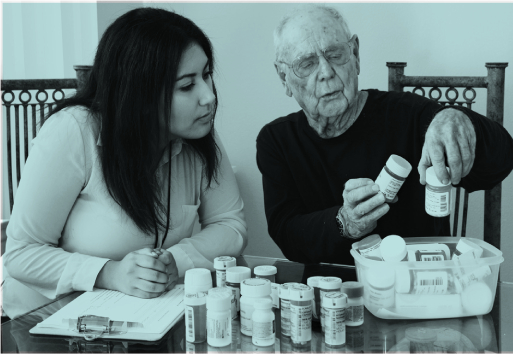 Introducing the all new HomeMeds 2.0
Ensuring patient medication-related safety through greater functionality and improved ease of use.
Medication-related problems can lead to many issues resulting in ER visits, rehospitalization, and worse.
HomeMeds is an invaluable evidence-based tool for identifying potential patient medication-related hazards. HomeMeds' software is now even easier to use with improved data aggregation functionality, flexible intervention management, and enhanced security protocols.
Besides observing the continued well-being of your patients and clients, your team could be enjoying these benefits of the improved HomeMeds 2.0 software package:
Easier medication entry
Faster, more efficient operation
Updated alerts, including opioids
Greater query capability
Communicate through email within program
Streamlined navigation
Data exportability to Excel
Deeper security and hierarchy of control
Customized set-up and configuration for sites and provider networksFor more information on HomeMeds or to request a demonstration, please contact: homemeds@picf.org.
Watch this video to learn more about our HomeMeds medication safety program
Learn more about our HomeMeds solution in this video with Sharon Feinman, Division Director, AgeWell at The JCC, as she discusses the benefits of our program.
Avoid costly hospitalizations and emergency room visits with our HomeMeds medication safety program
Medication-related problems endanger the lives of a high percentage of elders living at home, leaving them at risk for falls, dizziness, cardiac symptoms, confusion and other side effects that frequently result in unnecessary ER visits and hospitalization.
Since 2011, more than 11,000 older adults have had their medications screened for potential risks via the HomeMeds program. A staggering 40-50% of those screened had potential problems.
Each year, there are nearly 100,000 emergency hospitalizations for adverse drug events in U.S. adults aged 65 years or older*
Adults 65 years or older are twice as likely as others to come to emergency departments for adverse drug events and nearly seven times more likely to be hospitalized after an emergency visit.**
HomeMeds enables community-based agencies to address this critical safety and quality of life issue.
*Centers for Disease Control & Prevention study, Nov 2011, New England Journal of Medicine
**http://www.cdc.gov/MedicationSafety/Adult_AdverseDrugEvents.html# Retrieved February 11, 2021
HomeMeds Is:
An evidence-based, in-home, medication review and intervention that includes a computerized risk assessment and alert process, plus a pharmacist review and recommendation for improvement
A complement to other evidence-based programs that address patient readmission reduction, health self-management, care transitions or caregiver support
HomeMeds Helps:
Facilitate medication reconciliation after hospitalization
Monitor adherence to medications for chronic illnesses
Achieve an ROI similar to medication therapy management by decreasing adverse drug events such as falls and gastrointestinal bleeding
How HomeMeds works:
Community-based organizations arrange for a pharmacist (or geriatric nurse practitioner) to review and respond to potential medication problems identified at an in-home screening
Partners in Care trains staff and assists with implementation planning
Partners' contracted pharmacists can support HomeMeds in most states
Special arrangements are available for shared training and statewide or regional licensing
Partners offers an affordable fee for planning and training, setup, technical assistance and the license to use the online medication risk assessment software
Other benefits of HomeMeds:
Pairs well with medication management interventions such as dispensers and reminder systems
Fits well with care transition coaching
Promotes creative solutions such as using pharmacy students or the client/patient's Part D Plan medication therapy management service to mitigate costs
Recognition for HomeMeds:
The US Administration for Community Living has awarded HomeMeds with its Highest Evidence Level rating, and chose it for its rigorously screened Aging and Disability Evidence-Based Programs and Practices (ADEPP)
HomeMeds is an approved Disease Prevention and Health Promotion program
HomeMeds is included with a strong evidence rating on the US Agency for Healthcare Research and Quality (AHRQ) Innovation Exchange
HomeMeds has been implemented in over 70 sites and 23 states
HomeMeds has been successfully implemented in area agencies on aging, post-acute care transitions programs, home-delivered meals programs, fall prevention collaboratives, care management programs, housing and assisted living
Research and Publications
Contact Us:
Is HomeMeds the solution for your organization? Click here to take a 15 minute survey to help determine your readiness to participate as a HomeMeds site. For further information contact: homemeds@picf.org or Amy Adams at aadams@picf.org or call Dianne Davis: 747.500.4072